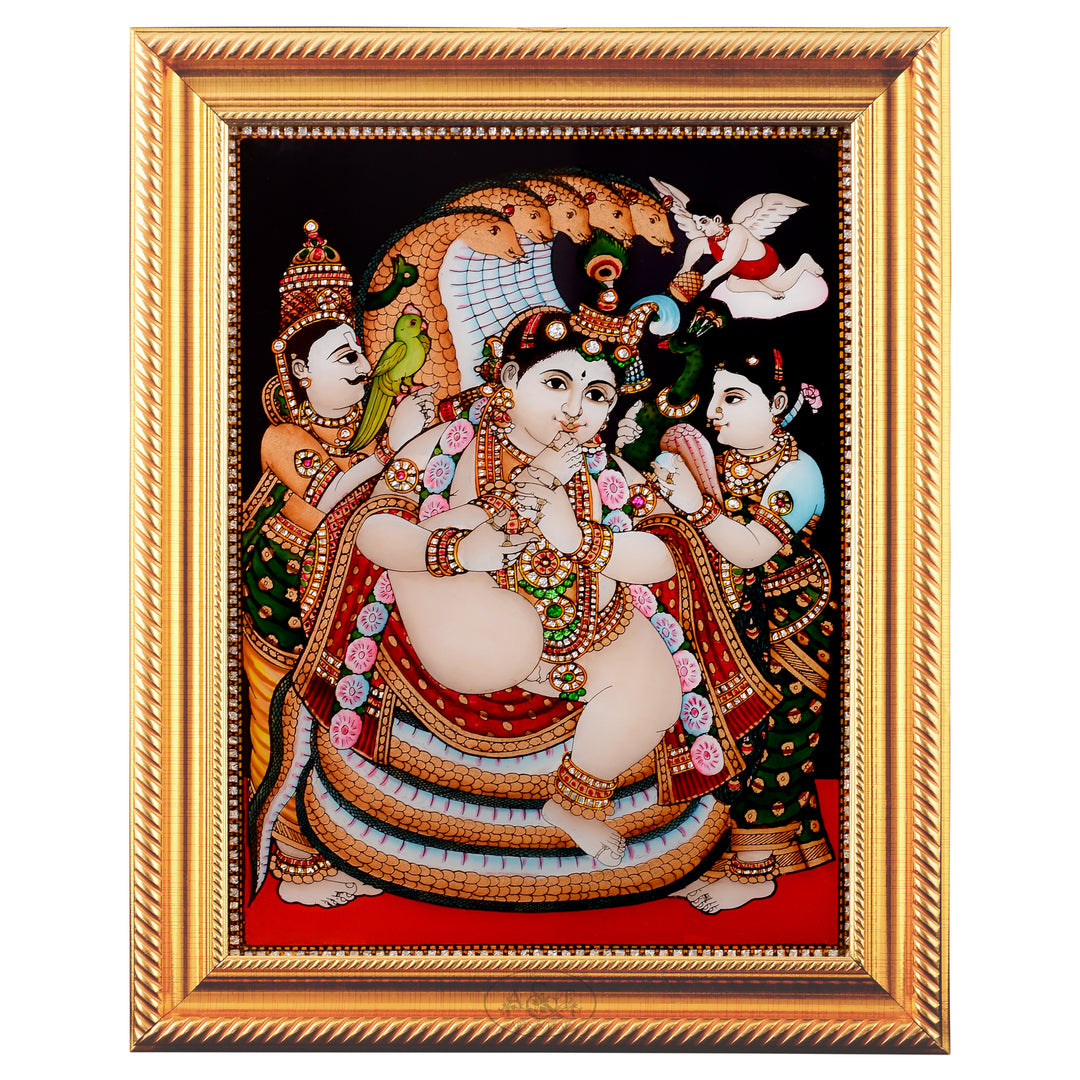 Glass Painting - Kalinga Krishna
Regular price
₹ 4,500.00
/
Tax included.
In stock, ready to ship

Inventory on the way
DETAILS
Size (WxDxH) : 10.75 x 1 x 13.5 Inches
DESCRIPTION 
Krishna and His friends were grazing their cows when one of the cows went to the riverside to drink water from the river Yamuna. Soon it dropped dead from water poisoning,Krishna's uncle Kamsa had been sending his emissaries on and off to kill Krishna and they too had tried various methods to kill Him, but in vain. So, many thought that this must be another ploy of Kamsa but soon realized that the culprit behind the poisoning of the Yamuna was Kaliya or Kalinga, the dreaded Naga, snake.
The friendly waters of the Yamuna soon became green and nobody could go near the Yamuna any longer. Krishna seized of this, entered the water to seek out and rout out Kaliya.Krishna however waded further and sought out Kaliya. A fierce struggle ensued between Kaliya and Krishna. Krishna suddenly emerged from the waters, dancing on the hood of the fierce Kaliya, holding Kaliya's tail in His hand.
It has found a place in everyone's heart and in almost all homes in India through millennia in legends and some form of art or the other, including song and dance.In art it became Kalinga Nardhana, since Nardhana means dance
Worldwide Shipping Available. Contact Us for a Quote!
Discover the ultimate convenience of complimentary Shipping with Rani Arts & Teak - perfect for those who appreciate luxury and effortless ordering. With an order of Indian Rupees 2500 or more, enjoy premium and free delivery of your purchase to any address in India. And for international orders, simply get in touch with us for a quote. Receive your order with ease, courtesy of Rani Arts & Teak.