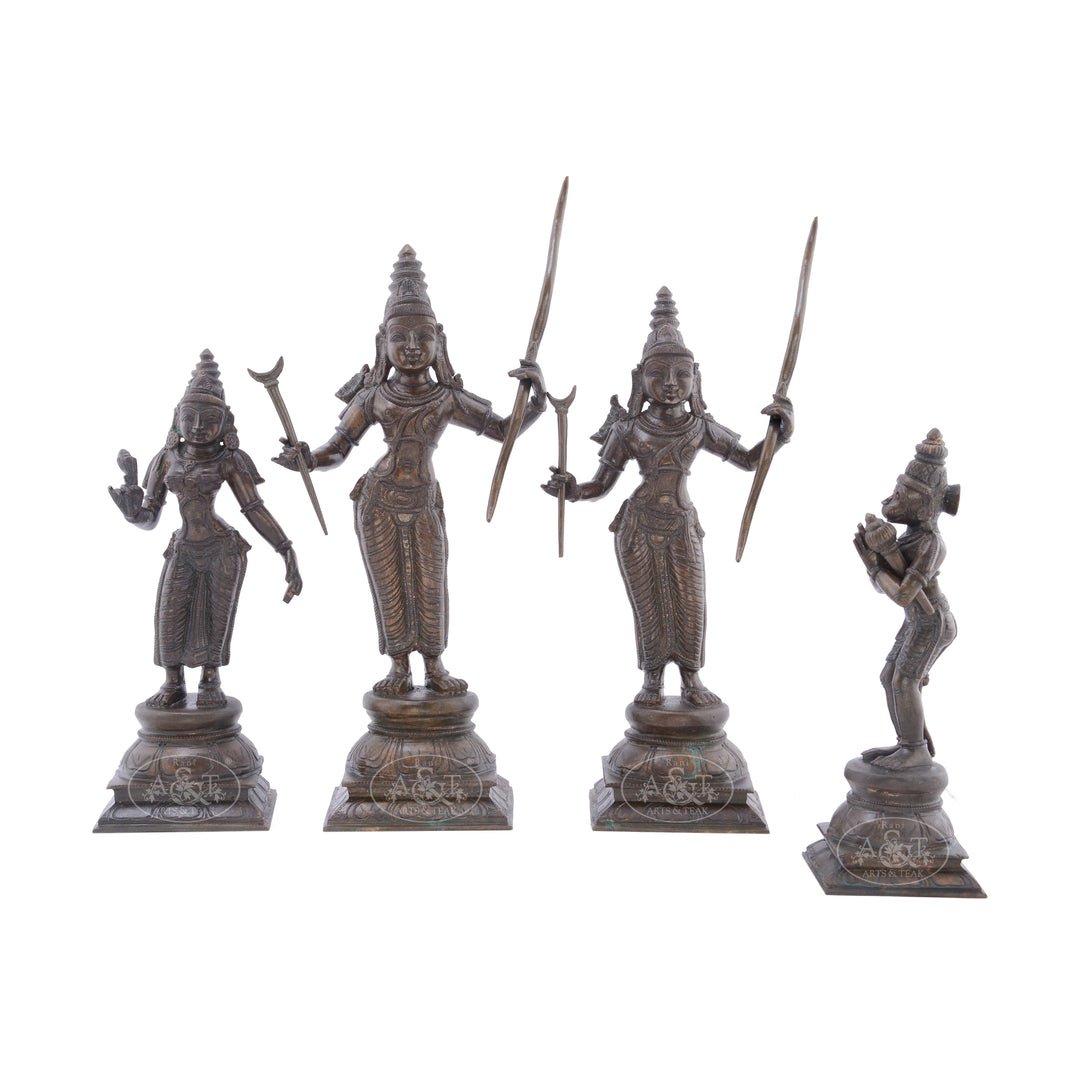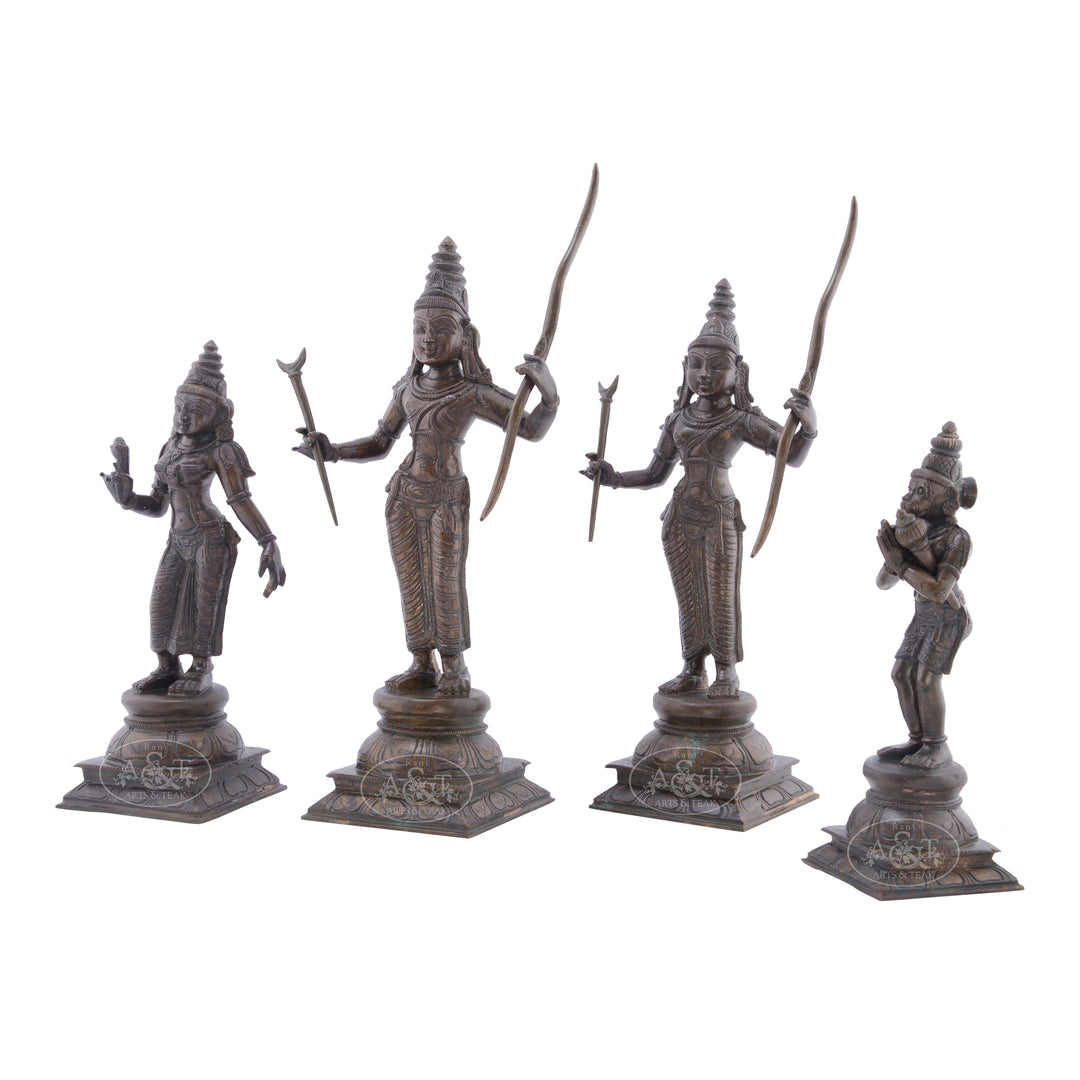 Bronze Ram Darbar Set ( Set of 4 Pieces )
Regular price
₹ 58,400.00
/
Tax included.
Low stock - 1 item left

Inventory on the way
DETAILS
Size (WxDxH) : 6 x 4 x 13.5 Inches   -   Ramar
Size (WxDxH) : 5.5 x 3.75 x 13.5 Inches - Lakshmanan
Size (WxDxH) : 4 x 3.75 x 10 Inches -  Seetha
Size (WxDxH) :  3.25 x 3.25 x 9 Inches -  Hanuman
DESCRIPTION
Ram Darbar includes Lord Rama, his wife Goddess Sita, his younger brother Lord Lakshman, and his dedicated devotee Lord Hanuman. Lord Rama is the seventh incarnation (Avatar) of Lord Vishnu as a great King and Sita is his perpetual consort and an incarnation of Goddess Lakshmi. Lord Rama is one of the most respected gods of Hindus. Lord Rama, is an ideal man and hero of the epic Ramayana, symbolizes the good manners and virtue, a man of values and morals. Lord Rama is believed to have taken birth in Treta Yuga on the earth as Maryada Purushottama (means the perfect man) to destroy the sin forces.
This Beautiful Bronze (Lost Wax) figurine looks extremely classy and elegant. The intricate design shows dexterous craftsmanship of Indian Artisan. This Bronze  figurine is perfect for not only your home, but also the homes of your loved ones! It can also serve as a great gifting option for your loved ones, family, and friends.
ABOUT LOST WAX BRONZE SCULPTURES
The Lost Wax Process, also called cire-perdue, is a method of metal casting in which hot metal is poured into a wax model, which is lost during the process. The process is used to make highly detailed bronze sculptures.
In the olden days, the castings were often made in copper, but bronze quickly became the preferred material for statuary, as it is stronger and more tensile. This method of sculpting involves creating a solid wax model of the figure, and then wrapping it in a clay mould. The model is then heated to melt the wax and harden the clay. Molten metal is poured into the inverted clay mould, and upon cooling, the clay mould is broken to reveal a solid sculpture.
Sculptures made using this method are one of a kind, since the mould must be broken to take the statue out. A sculptor typically spends several weeks to months working on one piece, thereby making such sculptures harder to come by, and very special. The very fine detailing and the intricacy of the work adds to the beauty of each piece.
Worldwide Shipping Available. Contact Us for a Quote!
Discover the ultimate convenience of complimentary Shipping with Rani Arts & Teak - perfect for those who appreciate luxury and effortless ordering. With an order of Indian Rupees 2500 or more, enjoy premium and free delivery of your purchase to any address in India. And for international orders, simply get in touch with us for a quote. Receive your order with ease, courtesy of Rani Arts & Teak.